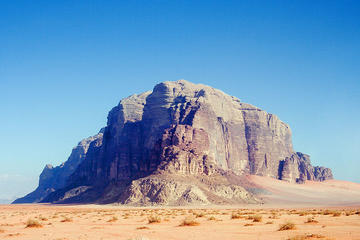 Shuttling between archaeological sites, an inevitable component of any Jordan trip, may have you longing for those haunting, limitless expanses of desert you've glimpsed from car windows. If so, head south for Wadi Rum, which offers spectacular vistas of towering cliffs and bold rock formations etched by erosion into other-worldly forms.
Lawrence of Arabia was a well-known visitor to the Wadi Rum, and there are a number of sites here associated with him through tradition or historical proof.
But generally there is little in the way of construction, or even vegetation, with only the nomadic Bedouins able to scratch an existence out of the red desert sands.
Click here for: