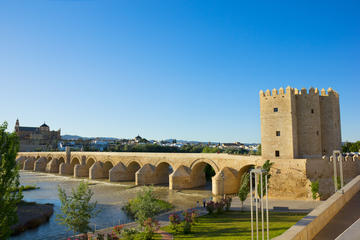 Several bridges traverse the Guadalquiver River as it weaves through the southern Spanish city of Córdoba, but one is more special than the others: the Roman Bridge, or Puente Romano.
Constructed in the early first century BC by the Romans, this ancient structure may have even been preceded by an earlier wooden bridge. In fact, it is believed that the ancient Roman road Via Augusta passed over its foundation, connecting Rome to Cádiz in the south of Spain. Since those early times, the Roman Bridge has been reconstructed many times, and heavily so by the Moors in the 10th century, when it was extended to what you see today.
Each end of the structure is anchored by two towers, which were built during Islamic rule in the Middle Ages. The Calahorra Tower sits to the south, and then the Puerta del Puente to the north (which was reconstructed in the 16th century), beyond which you will find the Grand Mosque, or Mezquita. Midway across the span resides a statue of San Rafael, the patron saint of Córdoba, and where devout Catholics stop to pray or light a candle.
Until 2004, cars were allowed to cross the bridge, but now it is strictly used for pedestrians only. Today's Puente Romano, with its 16 arcades, spans 247 meters, is 9 meters wide, and has certainly seen centuries of history travel across its back.
Click here for: