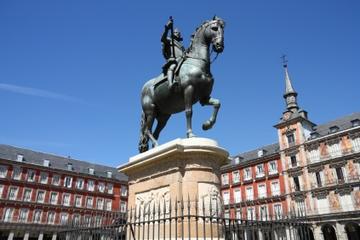 Plaza Mayor is a large square in central Madrid. It serves today as a meeting place for tourists and locals alike, and has played host to a variety of festivities throughout history, including bull fights, soccer matches, and executions during the Spanish Inquisition.
The plaza was built in the early 17th century during King Felipe III's reign - the central statue is a nod to him overseeing the project's completion. Forming the outer walls are a series of three-story residential buildings with balconies overlooking the center, providing excellent views of the action below.
The most prominent of the buildings in the plaza is the Casa de la Panaderia - House of the Baker's Guild, which today serves municipal and cultural functions. There are also several shops and eateries that occupy the ground level of the buildings and provide refreshments for hungry and thirsty travelers admiring the square.
Click here for: