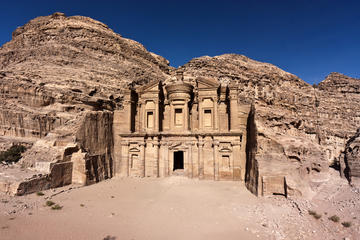 Petra: highlight not just of Jordan but of the entire Middle East; sublime and mysterious city; incomparable jewel of ancient architecture. Petra was once an important stop on a Roman trading route, but was only assimilated into the empire in 106 AD.
Until then it had been a stronghold of the Nabataen Arab kingdom, whose knowledge of Greek architectural styles is reflected in their astonishing cliff-bound monuments. Today Petra is a UNESCO- World Heritage site. Approaching through the long, narrow chasm, or Siq, you come face to face with the graceful columns of the magnificent Treasury, Petra's most-photographed building.
Like almost all structures here, it wasn't built but rather carved out of the pink-hued rock, which means the interiors are usually modest in comparison with their grand facades. Further sights at ground level include an 8,000-seat amphitheater, numerous tombs and the triumphal arch of the Temenos Gateway.
Click here for: