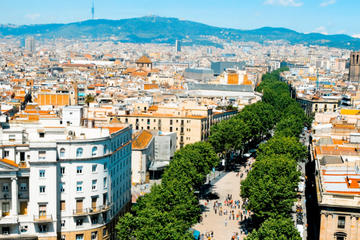 Las Ramblas, a series of 5 stretches of road that run through central Barcelona, is known collectively just as La Rambla. It's name comes from a stream (raml in Arabic) that used to run along the same path before the land was developed in the 14th century.
Now in place of the stream is a 3/4 mi (1.2 km) street with a wide, tree-lined pedestrian boulevard down the middle. Along the path are numerous shops, cafes and bars as well as some interesting attractions.
Both the Wax - Cera and Erotica museums are situated on La Rambla as are the Grand Opera House - Gran Teatre de Liceu - and the city's most colorful market, Mercat de la Boqueria. A large mosaic by Joan Miro is another iconic piece that warrants at least a second look, if not a photo opportunity.
La Rambla is filled day and night with snap-happy tourists as well as locals so there is never a dull moment to be had. No Barcelona experience is complete without a stroll down this boulevard.
Click here for: