In 1975 the Khmer Rouge turned this former high school into a notorious killing center. Some 17,000 people were killed at Tuol Sleng, which was later referred to as Security Prison 21. It was one of at least 150 other death camps run by the regime.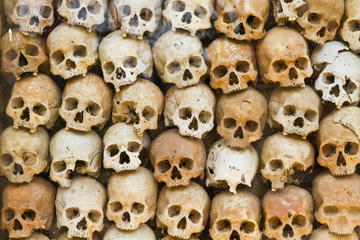 The prison, which reopened as a museum in 1980, held numerous leaders of the communist party, as well as doctors, teachers and other educated Cambodian citizens. Prisoners were subject to months of torture. Because the Khmer Rouge kept diligent records, including thousands of photographs, rooms at Security Prison 21 are lined floor to ceiling with black and white photos and the prisoners killed there and the torture they endured.
Tuol Sleng is divided into four main buildings. The first, known as Building A, houses prison cells where the last bodies of victims were found. Building B serves as a gallery of images, including the faces of those who died here. Building C offers a closer look at the small cells prisoners called home. Instruments of torture and other memorabilia are on display in Building D.
Click here for: