With its still-steaming mounds of volcanic tuff and eerily barren lava fields, the volcanic terrain of Timanfaya National Park is a world away from the lively beach towns that Lanzarote is best known for.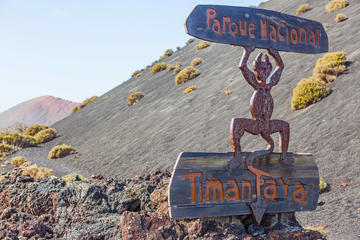 The focal point of the protected area is the dramatic red and black-rock mountain range, aptly named the Fire Mountains (Montañas de Fuego) after a series of eruptions in the 18th century that covered the entire island with volcanic ash and lava, completely reshaping the its topography.
Today, the volcanoes lie dormant, but the area remains a potent source of geothermal energy thanks to a residual magma chamber – a fact enthusiastically demonstrated by tour guides who toss bundles of branches into the steaming pits, where the wood rapidly burst into flames. Access to Timanfaya National Park is restricted to guided tours, and most visitors to the park opt to take the guided coach tours included in the admission price.
Click here for: