The Three Gorges Dam (Sanxia Daba), completed in 2009, is the biggest dam in the world. It required the largest volume of man power and building materials (over 10 million pounds of cement) and drastically changed the landscape and lifestyles along the Yangtze River.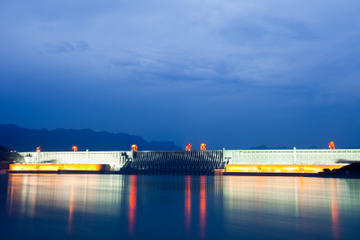 The largest construction project in China since the Great Wall, the Three Rivers Dam spans a mile and a half (2.4 kilometers) and is more than 600 feet (183 meters) tall. It was built to help control flooding along the river, stimulate river trade and boost power production (potentially as much as 18 nuclear power plants). The dam is an impressive feat of engineering despite the controversy surrounding its environmental and human impact.
While visitors can't walk on the dam, there's a viewing area with a great view which allows for photo ops (especially when the turbines are spewing water out from the reservoir). The small museum next to the viewing area has a large model of the dam and gives a brief history of the building project. Passengers cruising the Yangtze River to or from Yichang will likely have to pass through the series of staircase locks that allow boats to bypass the dam.
Click here for: