The brainchild of the Sellar Group, The Shard now holds the record for the tallest building in the E.U., with the vertical structure measuring an impressive 1,016 feet high.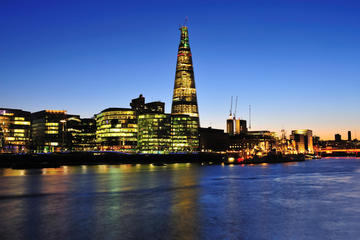 It's a project some 12 years in the making, employing the skills of architectural visionary Renzo Piano (best known for creating the Pompidou centre in Paris), who not only designed the structure to appear like a gigantic 'shard of glass' piercing the skyline, but carefully constructed the angled glass panes to reflect and refract light, creating a prism-like exterior that changes color with the skies.
The futuristic skyscraper takes the place of the Southwark Towers, overtaking it's predecessor with 72 floors to its 24, and as one of few tall buildings conceived in the aftermath of the World Trade Center attacks, is designed with stability, durability and shock-absorption in mind.
Click here for: