Keeping a watchful eye over the people of Rio de Janeiro, the Statue of Christ the Redeemer (or Cristo Redentor) sits atop Corcovado 2,300 feet (700 meters) above the city. It was voted one of the New Seven Wonders of the World in 2007.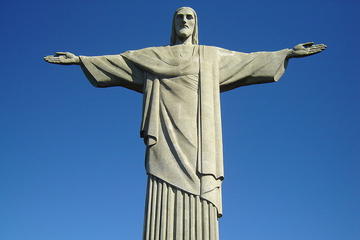 The largest art deco statue in the world, it is 130 ft (39 m) tall and the arms measure 98 ft (30 m) across. Made of reinforced concrete and sandstone the statue was unveiled in 1931.
On a clear day the views from the base of the statue are fantastic. At night the statue is lit up and seemingly hovers over the city as the mountain it stands on is dark. If it is cloudy the clouds light up and the effect can be quite spectacular and ethereal.
Click here for: