One of the most recognizable, dramatic, and popular icons of the city of Macau are the Ruins of St Paul's Cathedral. Originally constructed in 1580 by Jesuit priests, the church was twice ravaged by fire in 1595 and 1601.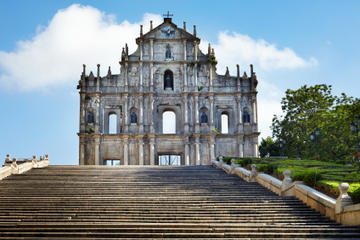 Not to be deterred by the loss, construction resumed in 1602 and ultimately grew into what would be the largest Christian church on the entire Asian continent. As fate would have it, however, disaster met the church once again in 1835 when fire ripped through the soaring cathedral for the third and final time.
Devastated by the blaze all that remains of the Church of St Paul are the 66 stone steps which ascend a steep hill and the intricately carved five-tier façade for which the ruin is now so famous. Carved from granite which was able to withstand the fire, the façade features a panorama of carvings which fuse traditional European Renaissance and Oriental artistic styles.
Click here for: