The dazzling centrepiece of the Tenorio Volcano National Park, the Rio Celeste is most famous for its shockingly bright blue color, the result of a natural reaction of volcanic sulfur and calcium carbonate, which turns the clear waters a powder-blue shade.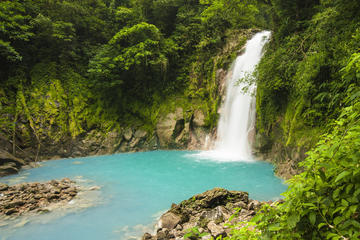 Reached by hiking through the surrounding rainforest, there are a number of sights of interest located along the Rio Celeste, most notably the Rio Celeste Waterfall, a favorite photo spot where the river tumbles into a striking blue lagoon; the Tenideros, where two rivers merge in the Celeste; and the Poza Azul, the most renowned "dye pool," where the reaction is most noticeable.
The river's startling color change is best viewed during the dry season (December to April), as excess rainfall can dilute the reactive chemicals leaving the waters with a less-appealing muddy hue.
Click here for: