All aboard Puffing Billy – Australia's most popular steam train ride! Running daily from the foothills at Belgrave to the mountain town of Gembrook, Puffing Billy is the most fun way to tour the Dandenong Ranges.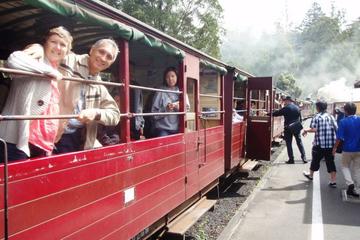 Puffing Billy's rattling red carriages run across three historic timber bridges, uphill and down dale through valleys and plains filled with tree ferns, and under the shadow of towering mountain ash.
The route runs through the eucalyptus of Sherbrooke Forest, past the steam museum at Menzies Creek and the picnic grounds at Emerald Lake, to the pretty town of Gembrook. The one-way journey is 24 km (15 miles), taking just under two hours.
Click here for: