The Burren area of County Clare offers more questions than answers. It's a vast countryside of karst limestone and millennia of human existence, and a place that leaves you shaking your head at the mysteries it holds inside.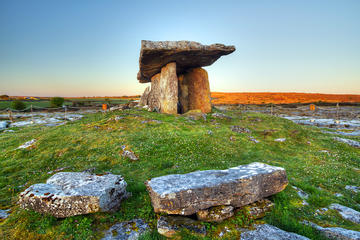 At a place like ancient Poulnabrone Dolmen—where a 12-foot capstone rests on two thin, vertical portal stones—the first question that instantly arises is how it was built in the first place. Dating to Ireland's Neolithic period, the dolmen structure is estimated to be over 5,000 years old.
When the area was excavated in 1985 to repair a crack in a stone, the remains of over 25 people—including adults, children, and an infant—were found buried by the Poulnabrone Domen, and along with items such as a stone axe and bone pendants, helped to date the portal tomb to around 3,600 BC. Today, when visiting this mystical and ancient site in the fields of County Clare, there's a profound sense of historical unknown that's held in the silence of the stones.
Click here for: