Peterson Cay, a tiny island off the south shore of Grand Bahama, is home to Peterson Cay National Park, the smallest national park in the Bahamas, covering only 1.5 acres. Small though it may be, the cay is home to one of the most beautiful reefs in the Bahamas, and the gorgeous coral structures are replete with snorkeling and diving opportunities.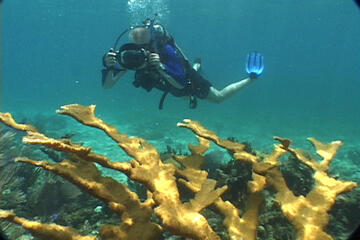 Past the initial soft coral near the beach, the main reef is a short swim off the shore, so be sure to go past the initial soft-branch. There is also a wide variety of aquatic life that calls the reef home, so keep your eyes out for tropical fish, and even manta rays and barracuda.
The pristine sandy beaches provide a perfect spot for quiet relaxation and afternoon picnics, and the calm atmosphere of the island is ideal for any Bahaman vacation.
Click here for: