The Estremadura town of Nazaré hugs the western Atlantic coast, a traditional Portuguese fishing village turned popular summer resort and surfer's paradise. The long sweep of sandy beach is backed by a long esplanade and a cute white-washed, red-roofed town.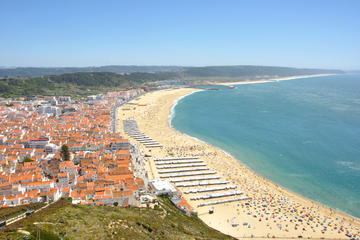 The protected harbor at the south end of Nazaré's beach springs into life when the day's catch comes in; fish such as lobster, sardines and mackerel are laid out to dry in the sun along the harbor walls and then sold from market stalls run by women swathed in the area's traditional headscarves and seven layers of skirt. The waterfront bars and restaurants rightly have an excellent reputation for the spanking fresh seafood served daily; the fish stew caldeirada is a local specialty.
To the north of the coastal village, a funicular trundles 360 feet (110 m) up and down between the golden beach and the cliff-top Promontório do Sítio, famed for its far-reaching sea views and landmark shrines.
Click here for: