This beautiful private island is open to all who wants to experience Bahamian beauty and adventure firsthand. A trip to Blue Lagoon Island promises countless opportunities for fun, whether you want to simply relax by the beach and catch some rays, swim with a dolphin, or venture into the sparkling waters in a sea kayak.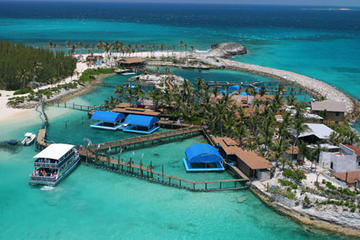 Though just a short trip away from Nassau, Blue Lagoon Island offers the peaceful feeling of seclusion that you can only experience on a private island. The nature alone is enough to draw most visitors- whether it's the clear turquoise waters, native coconut palm trees, pristine white sandy beaches, beautiful natural vegetation, tropical birds, or coral reefs teeming with native species of fish.
If you get restless after lounging on the beach, there are numerous attractions you can check out. The Dolphin Encounters, where you can swim with dolphins and sea lions, is continually ranked among the most popular attractions in the Bahamas.
Click here for: