Described as the eighth wonder of the World by Rudyard Kipling, Milford Sound is New Zealand's premier tourist attraction.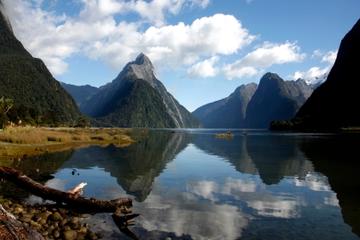 Upon entering the sound you're surrounded by sheer cliffs 3,900 feet (1,200 meters) high, carved by glaciers, rising dramatically from the dark waters. Among the tallest peaks are The Elephant at 5,000 ft (1,500 m), named because it resembles an elephants head, and The Lion, 4,300 ft (1,300 m), which looks like a crouching lion.
Over 22 ft (7 m) of rain falls on the sound each year creating spectacular waterfalls and lush forests which cling to some of the surrounding slopes. Lots of wildlife play in the sound including penguins, seals, dolphins and - if you're lucky - whales. The high tannin level in the water means you can also view black coral which can usually only be seen deep underwater.
Click here for: