Gullfoss is a massive waterfall on the river Hvita which originates in the glacial lake Langjokull. Gullfoss means 'golden falls' because the glacial sediment in the water turns the falls golden in the sunlight. The water falls 105 feet (32 meters) in two steps.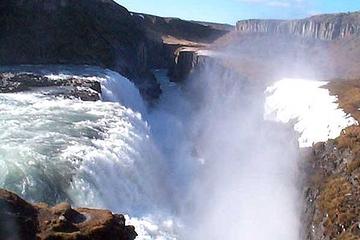 As you approach, you hear the falls before you see the wild, tumbling water as the river valley is a deep, dramatic crevasse. You can stand at the top or walk down the path to the bottom.
During the first half of the 20th century, the then-owners of the waterfall and surrounding land leased it to foreign investors who were keen to build a hydroelectric plant but their plans fell through. Then it was sold to Iceland but even then there was talk of harnessing the power of the river.
Legend has it that local landowner Sigridur Tomasdottir loved the place so much that she threatened to throw herself into the falls in protest, and then walked to Reykjavik barefoot in protest, thus making her point heard.
Click here for: