The Great Barrier Reef is Australia's greatest natural treasure, and the world's largest coral reef. This underwater wonderland stretches for 2,300 km (1,426 miles) from Bundaberg to Australia's northernmost tip. At its closest, it's only 30 km (18.5 miles) away from the Queensland coast.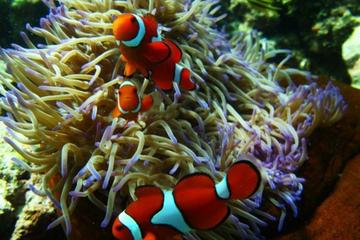 The Great Barrier Reef encompasses almost 3,000 individual reefs. Their multicoloured beauty is made up of 400 types of living and dead coral polyps, home to around 1,500 species of fish, 4,000 breeds of clams, 500 types of seaweed, 200 species of birds, 1,500 different sponges and half a dozen varieties of turtles.
The Great Barrier Reef is also dotted with around 900 islands, including coral cays such as Green Island and Heron Island, along with the Whitsundays sand islands. Fringing reefs surround the islands, while the outer reef faces away from the mainland and islands and out to sea.
Click here for: