Iceland is spectacular and so is the Golden Circle Route. The wide open landscapes are like nothing you've ever seen before. Actively volcanic, this inland route is a mass of waterfalls, glaciers, geysers, lava fields, and, of course, those volcanoes.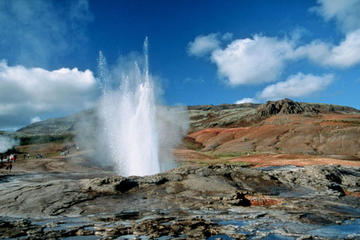 The first stop is Thingvellir National Park, the spectacular site of Iceland's first parliament and the place where the Eurasian and North American tectonic plates meet - and are moving apart. There is a widening fissure in the ground where the planet is literally opening up.
Next it's on to Gullfoss waterfall, a huge fall of water. From here you can see a glacier off to one side. And then it's geysers. The sheer power of water and steam erupting from the ground due to the build up of extreme heat is awesome and really makes you realize how alive the ground is beneath our feet.
Click here for: