A highly evocative neighborhood of excellent character bars and a smattering of good restaurants, Gastown is Vancouver's best old-town area. The Victorian era resonates in the cobblestone streets, antique lamps, and old buildings, adding to the neighborhood's distinctive ambiance.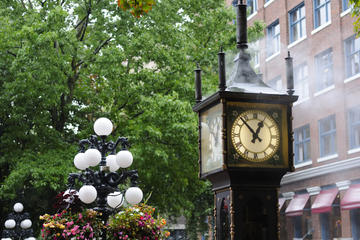 Gastown is the place to pay your respects to Vancouver's founding father, "Gassy" Jack Deighton – a bronze statue of him salutes Maple Tree Square. On Water Street stands the famous Steam Clock, a charming little artifact, built to resemble London's Big Ben.
The neighborhood has also become a hotbed for local designer-owned shops, drawing a new crowd of regulars to the area. It's also place to look for a new art gallery or a piece of beautiful, hand-carved First Nations art in one of the galleries along Water and Hastings streets. Microbreweries and brewpubs have sprung up across the city in recent years, and many of the best beer havens are in Gastown. Steamworks is the most accessible.
Click here for: