The historic district of Fort Cochin (also known as Fort Kochi) is a relaxing blend of Portuguese architecture, rural English ambiance and Dutch heritage in a tropical coastal location.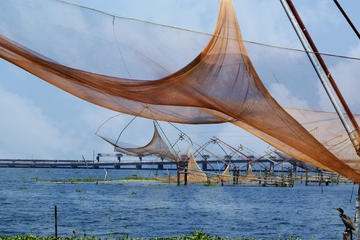 Visitors come here for laidback harbor promenade strolls and island-hopping boat rides through the Kochi Backwaters. Atmospheric laneways wind inland from the boat jetties to the town's historic European buildings, parade ground and lively spice markets.
Kochi's mixed heritage is most evident in photogenic Fort Cochin, which traces its history back to 1341 when it was established as a port. The royal family moved here in 1405, and the spice trading Portuguese, Dutch and British arrived from the 1500s onward.
A stroll around the town reveals the Portuguese wooden church of St Francis, old Dutch houses, English colonial shop fronts, the 16th-century synagogue, several mosques, and the Chinese-style fishing nets lining the harbor.
The town is named for the fort built by the Portuguese in the 1500s, which was later destroyed by the Dutch. Only a few reminders of the original battlements and walled citadel remain.
Click here for: