Cubbon Park is a 300-acre (121-hectare) oasis located in the heart of Bangalore just off the city's main thoroughfare, MG Road. The park is a hive of activity in the early mornings when people come here for their morning walks and then again in the early evenings when the walkers descend again.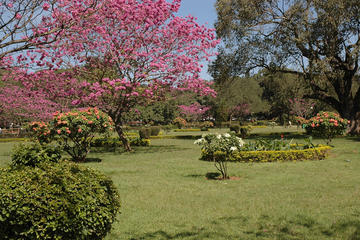 With close to a hundred different species of plants and trees, this is also a favorite haunt for nature lovers and birdwatchers.
The park is painted a different color each season as the tall majestic trees flower and drop their petals to the ground, creating a beautiful carpet of flowers. In the spring, the Rain Trees are covered with delicate pink blossoms, while summer is when the Jacarandas release their bright purple blossoms, creating a brilliant tapestry on the ground.
At the height of summer, it's the Gulmohars' turn as they bloom and turn the park's avenues a bright red. Twice a year, the eccentric Cannonball tree flowers, releasing the blossoms' intoxicating perfume.
Click here for: