The world's famous Colosseum was built in 80 AD for the Roman emperors to stage fight to-the-death gladiator battles and hunt and kill wild animals, whilst members of the general public watched the violent spectaculars.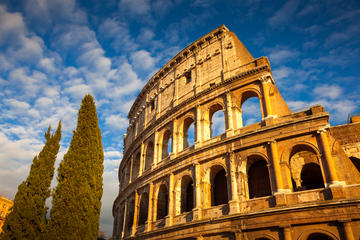 Entry was free, although you were seated according to your social rank and wealth. Gladiatorial games were banned in 438 AD; the wild beast hunting continued until 523.
The Colosseum is amazing for its complex and advanced architecture and building technique. Despite being used as a quarry for building materials at various points in history, it is still largely intact. You can see the tiered seating, corridors and the underground rooms where the animals and gladiators awaited their fate.
Today the Colosseum has set the model for all modern-day stadiums, the only difference being today's teams survive their games.
Click here for: