Even though it's less than a mile long, the elevated boardwalk at Cinco Ceibas Rainforest Reserve can take an hour to complete. Here, at Central America's longest boardwalk, endangered, swooping green macaws can often be spotted in the treetops, and rows of marching leaf-cutter ants parade along vine-covered trunks.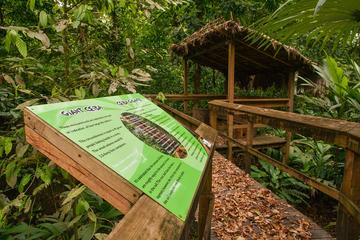 Every few steps are worth a stop to marvel at the forest around you—which stretches for over 2,700 acres of pristine Costa Rican countryside. The elevated forest boardwalk aside, Cinco Ceibas Rainforest Reserve is a bright light of conservation in the midst of natural destruction. Here in the province of Sarapiquí to the north of San José, a global demand for Costa Rican pineapples has led to deforestation.
Tirelessly working to conserve what they can, Cinco Ceibas set out on a mission to plant half a million trees—including a grove of towering teak that's been growing for 20 years. Today the teak grove forms the backdrop for eco-tours on horseback, and many of the park's facilities and buildings were sourced using park-grown materials.
Hear the efforts towards conservation while kayaking the Rio Cuarto, a leisurely, slow-moving mountain stream where monkeys, macaws, and red-eyed tree frogs flit across banks and bushes. Best of all, is that despite the park's remote location and distance from San José, guests are greeted with comfortable facilities and impeccable customer service.
It's the park's hope, that through education and tourism, that much like the stoic Ceiba trees that have stood for 500 years, the sustainable, natural, conservation practices will help the area keep its forests for at least 500 more.
Click here for: