The Basilica of Bom Jesus, a church dedicated to the worship of baby Jesus, is also home to the remains of Francis Xavier, Goa's patron saint and one of the original seven founders of the Jesuit order. The church was erected in Old Goa, the former Portuguese colonial capital, between 1594 and 1605 by Florentine sculptor Giovanni Batista Foggini out of red stone sourced from the area.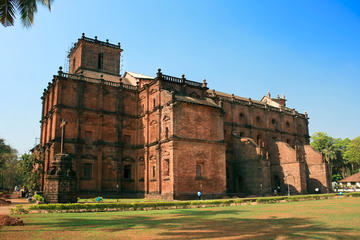 The withered remains of the saint, known throughout the Catholic world, are kept in a silver casket housed within an ornate three-tiered marble tomb to the right of the altar. Once every ten years, the church hosts an exhibition of the remains of the body - save for one arm on display in Rome – and they are made visible to the public.
This UNESCO World Heritage site is one of the oldest and most ornate churches in all of India, complete with gold gilded altars and white marble floors inlaid with precious stones.
Click here for: