Amsterdam's Red Light District (aka De Wallen) has been a familiar haunt for pleasure seekers since the 14th century.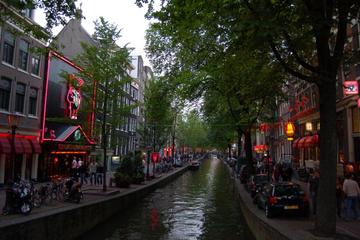 Though certainly not an area for everyone, the Red Light District has more to offer than just sex and liquor. For underneath its promiscuous façade, the area contains some of Amsterdam's prettiest canals, excellent bars and restaurants, and shops of all kinds. It also consists of windows with sexy girls, dressed in eye-popping underwear.
The best places for window-watching are along Oudezijds Achterburgwal and in the alleys around the Oude Kerk (Old Church), particularly to the south. The atmosphere throughout is much more laid-back than in other red-light districts. Families, lawyers, young couples, senior citizens - all types of locals live and socialize here, in stride with the surrounding commerce. You'll probably find yourself on Warmoesstraat and Zeedijk at some point, both commercial thoroughfares chock-a-block with shops and restaurants.
Click here for: