Little more than a fishing village at the beginning of the 1960s, Albufeira is now the busiest vacation resort along the Algarve, which runs in a necklace of sandy beaches and pretty towns along the south coast of Portugal. It's a cultured city with roots that stretch back to Roman times, but thanks to a devastating earthquake in 1755, much of the old town has disappeared.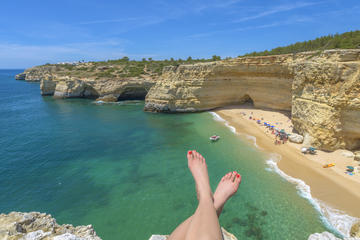 Historic buildings that do remain in the once-Moorish old town include the 14th-century Capela da Misericórdia (Chapel of Mercy), which was formerly a mosque, but most of the whitewashed, Baroque-style churches have been replaced since the earthquake.
A few fragments of the castle walls are still standing along with the castle's landmark clock tower, but it is the squat, stone Torre da Medronheira, which was built in the 1500s as a watchtower for pirates, that has best stood the test of time.
Click here for: