In a testament to the A-Ma Temple, it's believed by many historians that the peninsula of Macau is in fact named after this very spot. An exquisite Taoist complex dating to 1488, the temple is dedicated to A-Ma, a Taoist Goddess of seafaring and mariner's fortune.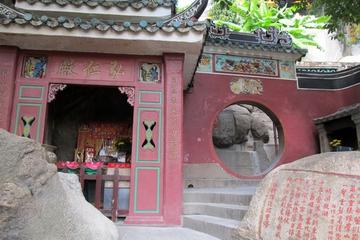 At the modern day entrance to the temple a stone engraving of a traditional sailing junk serves as a nod to A-Ma's long-lasting connection to the sea. Also known by the names of Mazu or Matsu, the goddess has nearly 2,500 temples around the world devoted to her praise and worship.
Upon arriving in Macau the original Portuguese sailors inquired about the name of this newfound land. In a cross-lingual miscommunication the original inhabitants offered the name of the area surrounding the temple: A-ma-gao. From this point forward it would be known to the Portuguese as A-ma-gao, or, in its abbreviated form, Macau.
Click here for: