Overlooking the beautiful Mopan River from a stunning hilltop, the ruins at Xunantunich are some of the most visited Mayan sites in the world. Located in the Cayo region, Xunantunich, which means "stone woman" in Mayan, dates back to the Classic Era, about 200-900 AD.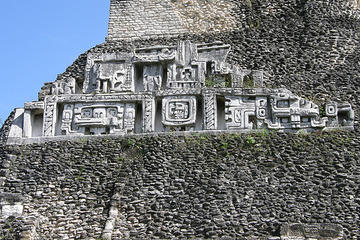 The complex is made up of 6 groups and about 25 different temples and palaces, and is dominated by the astonishing El Castillo, which stands 40m (130ft) tall, and from the top, provides an amazing view of the jungle canopy, the other ruins, and even past the Guatemalan border.
Learn about the incredible history of the Mayan inhabitants, the excavations, and the environment on the site, and stop into the visitors' center for more information.
Click here for: