The magnificent Stanley Park certainly enjoys one of the world's most breathtaking settings: the park is surrounded on three sides by the ocean and loomed over by the snow-capped North Shore mountains.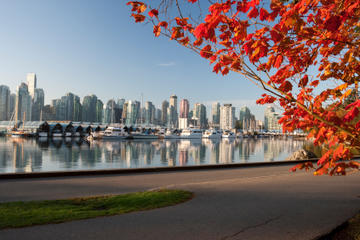 The park's perimeter seawall stroll is one of the best ways to spend your time. Stanley Park is big enough to have quiet parts whenever you're seeking seclusion, while wildlife lovers can always spot raccoons on the ground or eagles high in the trees.
Within its 1,000 acres/400 hectares you'll find forests of cedar, hemlock and fir, mingled with meadows, lakes, and cricket pitches. There are also a couple of excellent beaches – ideal spots to perch on a driftwood log with a picnic and catch a kaleidoscopic sunset over the water.
But the park isn't just for dewy-eyed nature lovers; other highlights include the collection of totem poles by the shore, Second Beach Swimming Pool, and Vancouver Aquarium.
Click here for: