St. Patrick's Cathedral, built to honor the patron saint of Ireland, is a must-see attraction in Dublin. It stands adjacent to the well that it is said St. Patrick himself used to baptize converts.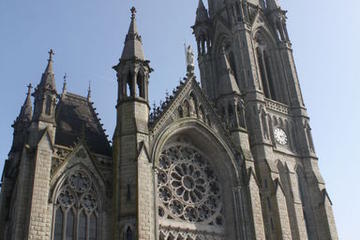 The original wooden church was erected in this spot in the 5th century but was rebuilt at the end of the 13th century to reflect its boost to cathedral status. Some repairs were done in the 1800s but the original style was maintained well enough to make it unclear as to how much of the medieval structure remains.
Milestones in the cathedral's history include famous author Jonathan Swift serving as Dean and the first performance of Handel's Messiah by members of the cathedral's Choir School. The former Dean's grave and the original music composition are on display in the cathedral as evidence of these events.
Besides these items, St. Patrick's is filled with rows of statues, beautiful stained glass, and elegant decorations for visitors to marvel at as they walk through.
Click here for: