The volcanic eruption of Thira that put an end to the thriving Minoan civilization was so cataclysmic, it may have spawned the legend of Atlantis.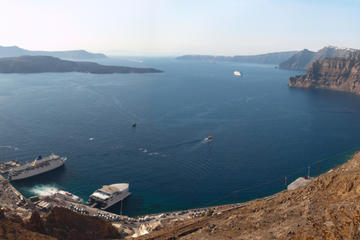 The explosion occurred around 3600 years ago, scooping out the once-circular island's center and west coast, and creating the sea-filled caldera and signature sheer cliffs where Santorini's townships teeter today. Since then, there have been perhaps a dozen major eruptions.
The volcano is quiet today, though the nearby island of Nea Kameni in the center of the caldera still emits puffs of steam. It's thanks to the caldera that towns like Oia boast such stunning sunsets, providing a low-lying, obstruction-free observation point as the sun sinks into the sea.
Click here for: