Old San Juan sits on a small island guarding the entrance to the Bahía de San Juan, the "rich port" which gave Puerto Rico its name. Its strategic position was backed up by fortifications include the forbidding San Felipe del Morro fort at the tip of the island, as well as San Cristóbal fort and La Fortaleza, now the Governor's residence.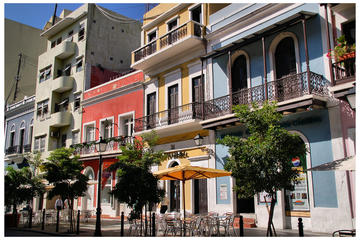 Inland, the compact grid of hilly, narrow streets, with their colorful houses and elegant wrought-iron balconies, represents one of the oldest and best-preserved town centers in the Western Hemisphere.
Two historic houses of worship bookend the center: in the north, the simple white exterior of the San José Church and the comparative grandeur of the older Cathedral of San Juan Bautista, built in 1521, in the south. The latter contains the tomb of Spanish explorer Juan Ponce de León.
Click here for: