For a full-day experience with a difference, go on a whale watching boat trip in the morning then spend the afternoon touring Gullfoss, Geysir and other Icelandic natural phenomena. It's a nature-lover's dream, and the best way to make the most of your visit to Reykjavik.
Vieux Québec is the crown jewel of French Canada and if you're coming for the first time, look out - there's simply no other place like it in North America.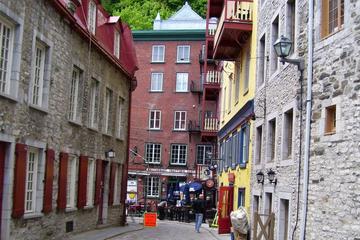 Narrow cobbled streets are lined with 17th- and 18th-century houses and almost every step will bring you to another historical plaque, a leafy park with a battery of 18th-century canons, a grand 17th-century plaza, and other historical sites. In fact, wandering around Vieux Québec is like exploring an old European city.
Vieux Quebec is compact and easily walkable. On a daytime stroll, you can browse the shops along Rue Ste-Jean, wander among the grassy knolls in the Plains of Abraham, climb to the top of the Citadel, walk the Fortifications, then follow the river boardwalk (the Promenade des Gouverneurs) down to the Victorian waterfront. From there you get the classic view of Quebec City's most famous building, the Chateau Frontenac.
Click here for: