If you came to Santorini for the sunsets, the town of Oia is where you want to be when the sun sinks towards the horizon to such glorious effect.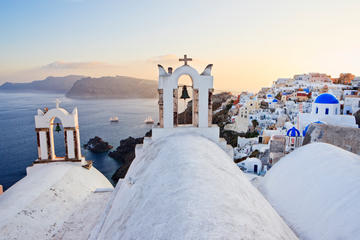 Perched on the steep edge of the caldera, with open views of the sea, the village is quieter than the island's main town, Fira, at least outside sunset hours.
A string of tavernas turn their faces to the caldera for those views, and it's fun exploring the town's tiny backstreets and rocky cliff face, where homes have been carved from the volcanic rock.
There's some seriously chic boutique accommodations in Oia, complete with infinity pools and spas. The lucky people staying on for the evening dine in Oia's gourmet restaurants, perched on terraces to catch the best views. Follow the 300 steps leading from the top of the caldera and you reach the fishing port of Ammoudi. Boats sail from here to the nearby island of Thirassia.
Click here for: