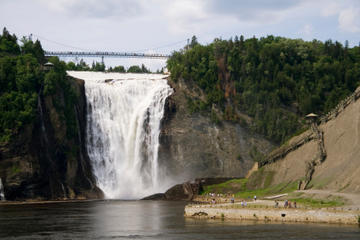 Higher than the Niagara Falls, the impressive Montmorency Falls stand 83 meters (272 feet) tall. The falls form at the mouth of the Montmorency River, where it drops over a cliff into the St. Lawrence River.
On summer nights, the plunging water is illuminated; during July and August, the falls are enhanced by a spectacular international fireworks competition. Montmorency Falls is surrounded by Parc de la Chute-Montmorency, where visitors can see the falls while having a picnic.
If you want to get a close-up view of the falls, you can take the staircase, which takes you from top to bottom, or take a suspension bridge over the crest of the falls, which enables you to see both sides of the park as well as the thundering water.
Click here for: