Meteora, in central Greece, is a place of natural beauty and man-made wonder. The huge natural rock towers are home to cliff-top monasteries built by Eastern Orthodox hermit monks in the 14th century.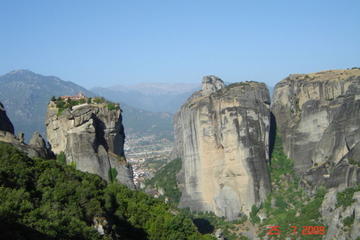 The monks settled in the area from the 9th century and began by living in the caves and fissures of the rocks. They built the inaccessible monasteries - 6 of 20 survive - to fend off Turkish invaders.
UNESCO has identified the area as having world significance.
Click here for: