A ride on the Maid of the Mist steamboat is a must-do on a visit to Niagara Falls, especially for first timers. These brave little boats have been ploughing headlong into the Falls' misty veil since 1846.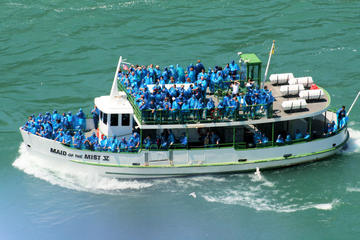 It's loud and wet and lots of fun. Before you begin your ride on the Maid of the Mist, you'll be given a large blue rain poncho, which is essential as you will get wet from the spray. Everyone heads for the boat's upper deck, but views from either end of the lower deck are just as good. Once leaving the dock, the boat slowly approaches Horseshoe Falls.
Her starboard side comes closest to the falls, so the best views are on that side. The Maid of the Mist then veers left and heads back to the dock. On its way back, she gives her passengers a sweeping panoramic view of the American Falls. You'll want to stay on deck for the whole trip; if you go below deck, you'll miss the action.
Click here for: