Little Venice is a tiny quarter of trendy boutiques, churches and whitewashed fishermen's houses lining the seafront in Mykonos' Old Town.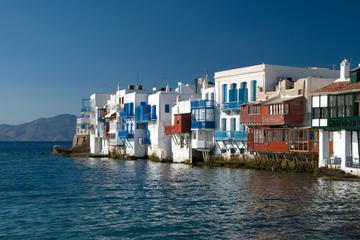 Flowering bougainvillea adds a touch of crimson to the bright white walls, and wooden balconies painted in trademark Grecian colors of blue and rust hang over the narrow streets.
Just south of the Old Jetty at the entrance to Little Venice, stands the rocklike Church of Panagia Paraportiani, while the town's iconic row of hilltop windmills overlook the quarter.
Come to Little Venice at dusk to capture postcard shots of a Mykonos sunset, and stay on into the evening at a waterfront taverna.
Click here for: