The Lalbagh Botanical Gardens provide a picturesque and peaceful respite from hectic city life. The 240 acres of green space are a paradise for the morning walkers and shy lovers who come here to stroll along paths lined with majestic trees, past lotus ponds and water fountains, and occupy the benches hidden under flowering creepers.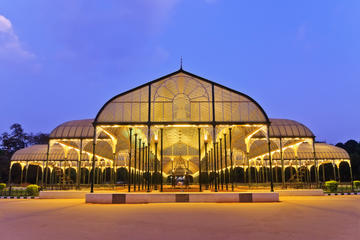 The many tropical plants and exotic flowers are a delight for nature lovers, and with over 50 species of birds, this is a popular spot for bird watchers. One of the best-known landmarks is the greenhouse, which was modeled after London's former Crystal Palace. The Lalbagh Rock, a large hillock made of granite, is another popular attraction: visitors like to climb to the small temple at the top.
The Sunday morning heritage walk is popular with nature enthusiasts who would like to learn about the garden's many exotic species of plants and trees. Join naturalist Vijay Thiruvady at 7am at the base of the Lalbagh Rock.
Click here for: