You can be forgiven for thinking that Halong Bay couldn't possibly be a real place. After all, beauty like this only exists in movies, where high-tech equipment can create a landscape that is mesmerizing, awe-inspiring and perfect. Not only is Halong Bay real, however, but it's a convenient side trip from fast-paced Hanoi that should be on the itinerary of any traveler passing through North Vietnam.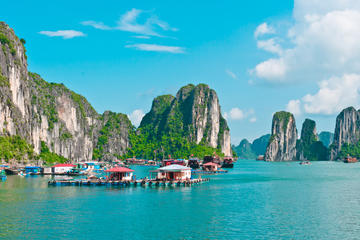 Classified as a UNESCO World Heritage site and one of the seven New Wonders of Nature, Halong Bay contains over 1,900 islands and jagged limestone islets. Cruise in silence on a traditional junk through the morning Halong Bay mists, and watch as vertical karst formations appear and then fade from view.
In addition to the islands and turquoise waters, Halong Bay is riddled with grottoes that feel like hidden lairs. Dock the boat at Bo Hòn Island and descend into Sung Sot Cave, a 130,000-square-foot chamber that drips in dozens of stalactites.
Click here for: