The Gap of Dunloe is a narrow mountain pass formed by glacial ice a couple of million of years ago. The valley winds its way for 6 miles (10km) between Macgillycuddy's Reeks and the Purple Mountains.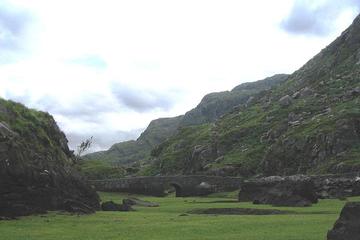 Along the way it passes five lakes, or loughs, Coosaun Lough, Black Lake, Cushnavally Lake, Auger Lake, and Black Lough. The River Loe connects the lakes. Over the river at one end is the Wishing Bridge where it's promised that wishes made while crossing the bridge will come true.
At one end of the valley is Kate Kearney's Cottage, these days a bit of a tourist trap but useful for a snack and restroom. At the other end is Lord Brandon's Cottage from where you can get a boat back to Killarney.
The best way to explore the gap is by hiking through or riding a bicycle. No cars are allowed but you can go by pony-trap. These seat four people and roll slowly through the valley the old-fashioned way.
Click here for: