Santorini's main town perches on the cliff top overlooking the caldera, with better daytime views than Oia and twinkling night-time vistas.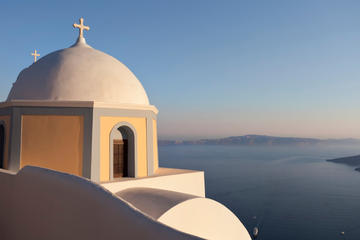 Fira swarms with holidaymakers and cruise visitors, so find some quiet time in the town's museums and churches. One museum focuses on Ancient Thira, with relics and figurines unearthed from Ancient Akrotiri. For local history and before-and-after displays on the devastating 1956 earthquake, visit the Megaron Gyzi Museum. Pop into the cathedral next door while you're here. To find out about local traditions, visit the folklore museum housed in a cave.
There are some lovely jewelry shops to browse in Fira, running along the edge of the caldera, and a paved walkway runs beneath the edge of the lagoon, heading north to meet the cliff-top path to Oia, 8km (5 miles) away. Tours run from Fira over to the volcanic island of Nea Kameni, or you can take a dusk cruise to catch a legendary Oia sunset from the water.
Click here for: