With a history dating back to 1874, the Feskekörka is Gothenburg's oldest market hall, Scandinavia's largest fish market and the much-celebrated focal point of the city's legendary fishing industry. Owing its peculiar name (literally: the 'Fish Church') to its church-like appearance, the Feskekörka's unique surroundings only add to its charm and a stroll around the lively marketplace is a popular pastime for tourists.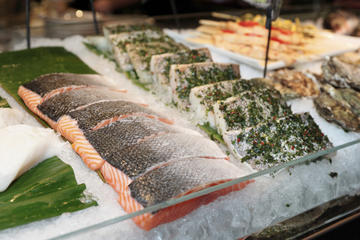 Today the busy market remains largely unchanged from its 20th-century heyday, with elaborate displays of fresh, seasonal produce and a steady stream of top chefs, local families and visiting foodies haggling over the morning's catch.
From fresh-off-the-boat cod and halibut, to live spider crabs and lobsters, seafood lovers will find everything they need here, but even if you're only browsing, head to one of the food stalls or restaurants, where you can sample local delicacies like pickled herring, smoked salmon or seafood smörgås (open sandwiches).
Click here for: