Built by Gustave Eiffel for the 1889 World Fair, held to commemorate the centennial of the Revolution, the Eiffel Tower (Tour Eiffel) made headlines at the time as the world's tallest structure at 1,050 feet (320 meters).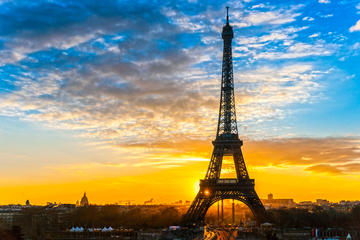 Initially opposed by Paris' artistic and literary elite, the tower was almost torn down in 1909, but its salvation came when it proved an ideal platform for the antennas needed for the new science of radiotelegraphy.
Today, the highlight of a visit is the supreme view over Paris. When you're done peering upward through the girders from the ground, head up to the three levels open to the public, one of which features the famed 58 Tour Eiffel Restaurant. Just southeast of the Eiffel Tower is a grassy expanse that served as the site of the world's first balloon flights. Today, the area is frequented by skateboarding teens and activists stating their views on the current state of France.
Click here for: