A tranquil break from bustling Chinatown, this intimate "garden of ease" exhibits the Taoist symbolism behind the placing of gnarled pine trees, winding covered pathways, and ancient limestone formations.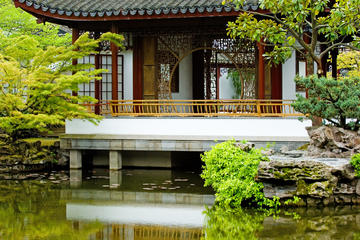 On your visit, learn how everything in the garden reflects balance and harmony, and the placement of each item has a considered purpose. Soft-moving water flows across solid stone, while smooth, swaying bamboo grows around immovable rocks.
As you wander the peaceful paths, notice how dark pebbles are placed next to light pebbles in the paving. If you visit in summer, the Dr. Sun Yat-Sen Classical Chinese Garden is the scene of musical performances and dances. Every Friday night from mid-July through the first weekend in September, the garden hosts an eclectic repertoire that includes classical, Asian, world, Gypsy jazz, Slavic soul, and fusion music.
Click here for: