Archaeological buffs and lovers of legends mustn't miss the trip to the sacred island of Delos. On Delos, the archaeological jewel of the Cyclades, you can see firsthand where the ancients lived and clamber over the ruins they left behind. Held sacred as the mythological birthplace of Apollo, Delos was at the heart of the ancient world as an important religious and commercial center, reaching its zenith in the Hellenic period around the 5th century BC.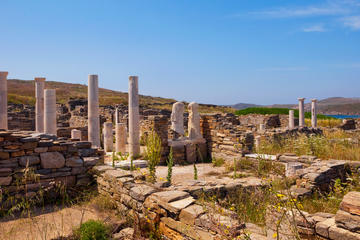 The huge site sprawls along the island's west coast, from the stadium in the north to the old trading warehouses to the south.
Standouts include the Sanctuary of Apollo temples and the Terrace of the Lions. The remains of private houses surround the semicircular Theatre, and the site includes several agoras, monuments, sanctuaries and temples. You can see finds from the excavations at the site museum, including the original lions from the much-photographed Terrace of the Lions.
Click here for: