The Arrayán forest is the main attraction Parque Nacional Los Arrayanes, which is easily accessed from Villa La Angostura. This forest is an important remaining natural stand of the arrayan, or the Chilean myrtle tree.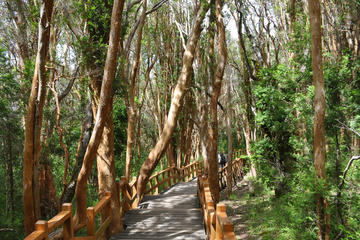 They are a slow-growing tree with a narrow trunk whose bark is reddish to light coffee in color, often referred to as cinnamon, and which peels off as the tree grows. The tree's bark is cool to the touch. They bloom white in the summer (January and February), and give an edible dark blue-black fruit in early autumn.
You can visit this protected forest, which covers the Quetrihué Peninsula by horse, or on foot, horseback or bike. The trail is 12 km long. You can also visit the forest by boat, either from the park itself, or as a longer tour beginning in Puerto Pañuelo, and also stopping at Isla La Victoria. Some of the gnarled trees in this forest, which are native to a narrow band of south latitude, only in Chile and Argentina, are up to 650 years old.
Click here for: